A Few More Varicose Vein Testimonials
As the leading vein treatment center in America for the VNUS Closure, Maryland Vein Professionals receives many varicose vein testimonials from our patients. Today's blog contains a few letters about varicose vein treatments. 

Susan Noticed No More Pain.
Every client has concerns about medical procedures, said Dr. Jonathan Calure. However, when the results of varicose vein treatments can be seen by everyone at the pool, on the tennis court, around the golf course or at the beach, we're as concerned about eliminating ugly, bulging varicose veins as our patients are.
Everything went exactly as the doctor said it would in my consult. The evening after my first procedure I noticed the difference in my legs no achiness or pain in the leg I'd had done.
Susan H., MD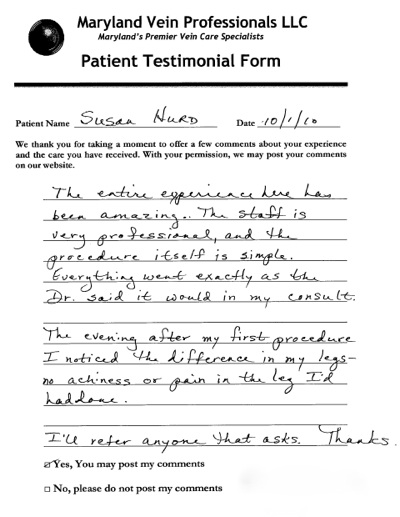 Felicia Feels Much Better Without Major Surgery.
I never for a second thought that I could have a procedure done that would make my legs feel so much better without major surgery. Dr. Calure was so gentle and explained every single step. Great service, excellent bedside manner. Thanks again! Felicia S., District Heights, MD
Jonathan Is Riding His Bike More Often Now.
I'm happy to report that after a 20-mile ride today… the only thing out of the ordinary is that (both legs) feel as good as they do. I am still feeling a bit of pressure below the incision at my left knee but that is getting less and less. While modern science and medicine can explain what has transpired in my legs, it doesn't take the miraculous factor out of the difference I've felt so far. Jonathan H., Ellicott City, MD
For More Information About Varicose Vein Treatments, Contact Us Today.
To read more of our varicose vein testimonials about the VNUS Closure Procedure, or to find out more about varicose vein treatments, please visit MDVeinProfessionals.com Or call us at 877-7-MD-VEINÂ for a free physician screening.