More Customers Speak About Their Varicose Vein Procedures
If you have pain, swelling, discomfort, or bulging veins in your legs, these varicose vein testimonials from Maryland Vein Professionals clients will prove that varicose vein procedures can eliminate your pain. Especially because it's summertime!
Cynthia Felt An Immediate Improvement.
Cynthia visited our offices to discuss her first procedure, said Dr. Jonathan Calure. She was looking forward to a summer of being able to show off her legs instead of hiding them.
It was so amazing to feel an immediate improvement following my first procedure, added Cynthia replied. My only regret is that I did not find you sooner! Cynthia A.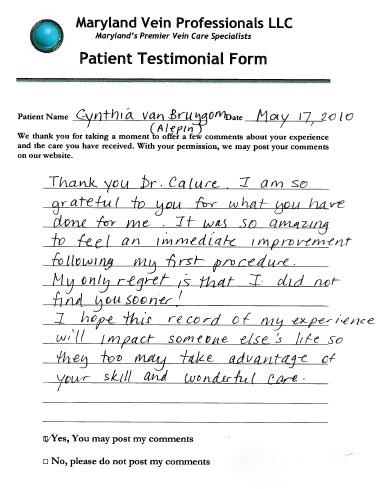 Richard Found The Entire Experience Very Easy.
Dr. Calure was very knowledgeable and skillful in the procedure. I found him to be very approachable and could count on him to answer any questions that arose, both during the procedure and the weeks after while I was recovering. Richard R.,Bethesda, MD
Janet Had A Painless Procedure For Her Painful, Swollen Legs and Ankles.
For years I have suffered with painful, swollen legs and ankles. The vein closure procedure was painless, and I saw results almost immediately my ankle swelling was reduced and the heaviness and pain in my legs decreased significantly.
Even the spider veins on my calves and ankles shrank and faded. I have continued with sclero treatments and have seen even more improvement in how my legs look and feel. Everyone in Dr. Calure's office is wonderful as well as cheerful, friendly, and very pleasant.Janet P., Columbia, MD
For More Information About Varicose Vein Procedures, Contact Us Today.
To read more of our varicose vein testimonials, or to find out more about varicose vein procedures, please visit www.MDVeinProfessionals. Or call us at 877-7-MD-VEIN for a free physician screening.