Varicose Vein Testimonials for VNUS Closure Procedure
Violet Went Very Nervous To Very Comfortable and Very Relaxed.
I have to say I was very nervous about having VNUS Vein Closure done, but I knew it was something that was very much needed for my health.
From my first screening visit, I knew this is where I wanted to have my procedure done. The staff made me feel so welcomed, because they took the time to explain everything to me and helped ease my worry.
The closure procedure itself was very comfortable, in a very relaxed atmosphere, and with a very friendly staff.
I will recommend Maryland Vein Professionals to anyone who suffers with sore legs, broken veins and swelled legs. I am very thankful I made this decision. – Violet H.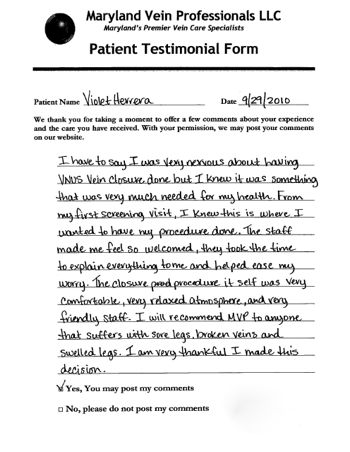 Paul on the VNUS Closure Procedure.
My right leg has been feeling much better since having the vein closure procedure. I have had a relief of symptoms I did not even know were related to my varicose veins, such as restless legs and pain behind my knee. I am now considering having the procedure on my left leg, which shows signs of reflux.  Paul H.
Arlene on No More Leg Pain for Varicose Vein Treatments.
Immediately following the procedure I noticed that the pain I had been having in my leg was gone. The discomfort during the procedure was minimal and afterwards I felt very comfortable. The next morning I walked 2 miles with no difficulty, actually I felt better then I had in the past 2 months because the leg pain was gone.
The staff and Dr. Calure were very pleasant and professional, explaining the procedure along the way. Having a DVD to watch was destracting and made time go by faster. I highly recommend this procedure.  Arlene S, Columbia, MD
For More Information, Contact Maryland Vein Professionals Today.
To find out more about varicose vein treatments or to read more varicose vein testimonials about the VNUS Closure Procedure, please visit www.MDVeinProfessionals. Or call us at 877-7MD-VEIN for a free physician screening.